2017-07-04 17:58:01 Scource:Shandong Finestart Imp.& Exp. Co.,Ltd. Click: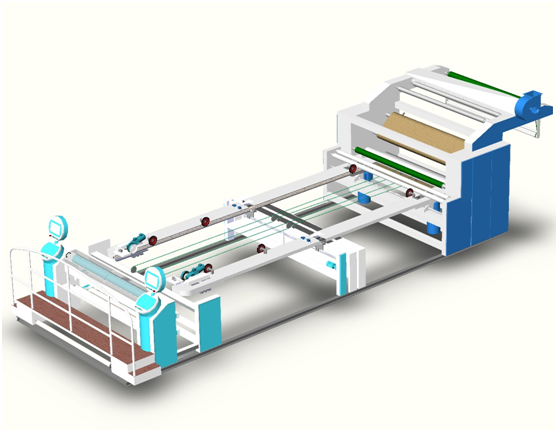 Introduction
The Open Width Compactor machine is used for open width cotton fabric pre-shrinking process. It's 3in1 machine with competitive advantage, which combined stenter, dryer and compactor together.
At the beginning of overfeed, the cotton fiber will be processed by steaming to increase the humidity and plasticity. Then the fabric will be widened and pre-shrinked in order to reduce shrinkage and get a good soft feature.
Some fabric could be used directly after drying machine processing, and you can get a stable size, qualified shrinkage and soft effect. If the fabric couldn't reach the standard, you can repeat the processing step and obtain perfect appearence.
Based on different fabric width, we can provide the following machine models:
FSLS-2200mm/2400mm (standard)/2600 mm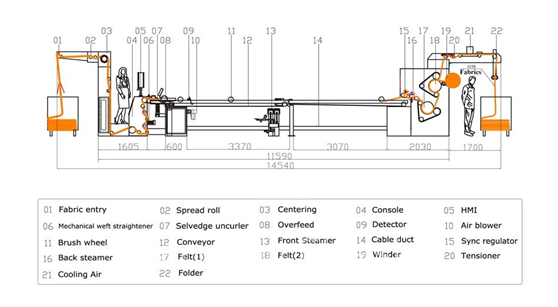 Based on different heat sources, our machine adopt 3 heat methods: Steam, Electricity + Oil, Circulation Conducting Oil.
Our Open Width Compactor machine is mainly used for cotton and other natural fibers,
***The machine can NOT be used for synthetic fabrics.
​
​
​
Basic Information & Technical Data
| | |
| --- | --- |
| Model | FSLS2400 |
| Name | Compactor |
| Application | Textile-finishing(shrinkage rate:4-5%) |
| Suitable Fabric | Open-witdh knitted Fabric,Pure cotton,wool,blended fabric(cotton content>65%) |
| Felt Max. Width | 2400mm |
| Tentering Max. Width | 2600mm |
| Working Speed | 3-35m/min |
| Rail Type | Stainless Steel+ Graphite |
| Dimension | Approx. (14540*4100*3000mm)L*W*H |
| Weight | Approx. 12t |
| Compressed Air | 0.35-0.6MPa |
| Tentering Working Type | Horizontal Circulating Chain(Stainless Steel Pin Plate & Holder,Pitch:60mm) |
| Compacting Type | Felt Belt(Nomex)+ Hot Cylinder, Felt Belt Thickness:20-21mm |
Cost & Consumption
heat source of Hot cylinder
No
Item
Cylinder Max.Temp
Specification
Consumption
1
Electricity heat conduction Oil
190ºC
Industrial Electricity
25-54KW
Saturated Steam for Steam Box
No
Item
Max.Temp
Specification
Consumption
1
Saturated Steam
140ºC
3-6Kg/cm²
100-150kg/h
Electricity
No
Item
Specification
Consumption
1
Driving System
Main Motor etc
21KW
Advantage:
We possess the upgrade and design ability with our professional technical team, your customized design could be changed into drawing.
With advanced technology and best quality, we make sure that you can get satisfied products based on our pleasant cooperation.